Hyper Poland and IDOM began cooperation
22.06.2020
Hyper Poland will cooperate with IDOM, a world leader in providing Consultancy Engineering Services with a strong focus on rail infrastructure. In doing so, the Partners have recently signed a Cooperation Agreement.
By a stepwise approach, Hyper Poland proposes to implement the next generation of a sustainable long-distance mass rapid transport system based as a variation of the hyperloop concept by using existing railway superstructure.
IDOM will support Hyper Poland with its rich, global experience in designing high-speed rail systems, traffic research, and business analysis. Upon the Agreement, IDOM is officially becoming a Partner of Hyper Poland. In this way, IDOM has joined the prestigious small group of Companies (i.e. Microsoft, DB Schenker, LOT Polish Airlines, TWERD, Transfer Multisort Elektronik, Railway Research Institute, InCredibles by Sebastian Kulczyk) that contributes developing Hyper Poland's transport system.
- Cooperating with IDOM - a global leader in infrastructure designing and research is for us yet another proof that our work on magrail - the innovative passive levitation technology - is gaining more and more attention among the most important players of the transportation industry. With that next steps to building even more advanced solutions, such as hyperloop, are possible - explains Przemyslaw Paczek, CEO of Hyper Poland.
- We have no doubts that nowadays, innovation is crucial for transportation - not just in the IT area, but most of all - in those most advanced fields of technology. IDOM supports this trend and participates in many projects that may potentially become the technology of the future. That's why Hyper Poland's idea has drawn our attention. It shows potential to implement magnetic levitation, keeping the current rail superstructure - points out Marcin Warda, IDOM Country Manager for Poland. - In this way, we are proud to contribute with our Partner to pioneer the first step towards a sound implementation of hyperloop technologies. By using the current guideway facilities, we are promoting sustainability while enhancing transport capabilities along well-developed rail corridors. - adds Warda.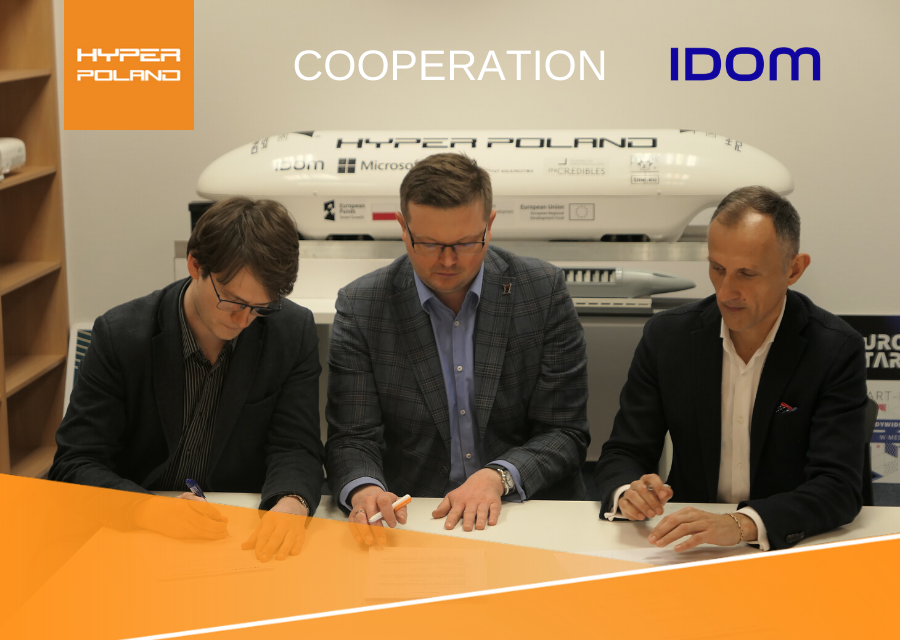 go back